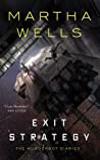 Murderbot has really stirred up some trouble. Now Dr. Mesnah's caught up in it and it's time to come back and perhaps fix some things.
Like the rest, it's a quick read with a wonderful sense of all too familiar alienness, wonderful hacking and action scenes, and a fascinating look at what it means to be a person–or not.
Worth the read, but at this point, I expect you'll already be blowing through these.