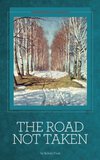 On one hand, I read Robert Frost many years ago. Perhaps I remember it all. I could tell you that say this is all just refreshing my memory.
Or perhaps I don't remember a thing of it, other than the vague idea of The Road Not Taken and nothing more.
I shall be telling this with a sigh
Somewhere ages and ages hence:
Two roads diverged in a wood, and I—
I took the one less traveled by,
And that has made all the difference.