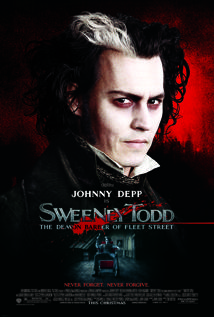 Wow. I have just not watched many movies this year. I really should work on that.
So let's start with one of the weirdest and violent musicals out there: Sweeney Todd. I recently came across a YouTube video How the Music Spoils Sweeney Todd (and why that's a good thing) that reminded me how much I enjoyed the music when we did it in high school (Not even kidding, not sure how that got approved…). So back we go to the 2007 Tim Burton / Johnny Depp version.
Short version:
Oh, the aesthetics.
The shocking, almost black and white (and red). The outfits. The darkness of London. The blood… okay, that was maybe a bit much at times.
I want a window like Sweeney Todd has…
I love the music.
In particular, No Place Like London:
There's a hole in the world like a great black pit
and the vermin of the world inhabit it
and its morals aren't worth what a pig could spit
and it goes by the name of London.
A strong opening!
Pirelli's Miracle Elixir, Toby gets to show off.
Toby: Wanna buy a bottle, missus?
Sweeney: What is this?
Mrs. Lovett: What is this?
Sweeney: Smells like piss…
Mrs. Lovett: Smells like "EW!"

Sweeney: Looks like piss…
(Mrs. Lovett: Wouldn't touch it if I were you, dear!) Sweeney: This is piss, piss with ink.
A Little Priest. Delightfully creepy.
The one I'm really missing out on is the opening with lyrics. They have the instrumental and it's great… but that was my favorite piece in the play. Such is life.
The cast is impressive.
Johnny Depp and Helena Bonham Carter of course do creepy well and I'm impressed with their singing chops well enough. And then all the Harry Potter folks: Alan Rickman as the Judge and Timothy Spall as Beadle. And … Sacha Baron Cohen as Pirelli? That was a surprise. Last best one, Ed Sanders as Toby. He's good.
The blood.
Okay, that got to be a lot. Kind of the point I suppose, but not one for the children.
Overall.
My top movie of the year (so far)! (Yeah. I know.)
Ranked: 2023 Movie Reviews