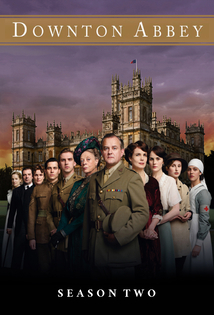 The season with World War I. That's a lot of changes, from war wounds to deaths to Downton becoming a temporary hospital.
It's fascinating getting to know all these stories. Oh I wish the best for them all.
Such is life.
Onward!
---
Per episode reviews. Potential spoilers for the season as a whole.
Episode 2.1
And so… war. Brutal away and at home for those that go, those that don't, and those that can't.
I'm looking forward to Lady Sybil's future. She's sweet and I'm not sure what there is for her as the youngest daughter of the family otherwise.
Oh Mrs. Bates. Without Thomas at home, as if we needed new trouble. I hope that's resolved soonish in Mr. Bates' and Anna. Oy oy oy.
A new season!
Episode 2.2
Edith… driving a farm tractor. That's a very strange plot line.
Mary and another older man… who might have something to do with Miss Swire?
Thomas it's still an ass, but perhaps he can learn?
And of course poor overworked Carson. Only a middling large staff to order about now.
Episode 2.3
Everything changes.
Wounded recovering in Downton, William going to war, Lavinia might very well have some skeletons after all, and Thomas in charge (oy?!).
Episode 2.4
I'm… not sure exactly what Isobel expected going on like that. Perhaps she just really didn't realize.
Leaving her servants bored amuses me greatly.
Also Sybil and Branson. Cute. And Mary and Carlisle. Kinda weird.
Ethel… quite suddenly. Not sure what to think about that one. On one hand it's not like she wasn't warned. On the other… quite the class issues.
Also also poor Moseley. He seemed so happy for a few moments.
Episode 2.5
Well that's a start.
Interesting to see the Dowager Countess taking William's side. Oh Daisy, stuck with few good choices there.
And of course Mrs. Bates is back…
And Ethel. So many things in one episode.
Episode 2.6
Oy.
Patrick back from the dead… maybe?
Hard to even say what everyone thinks of that and there's no real easy proof either way.
And so ends the war. Now what?
Episode 2.7
Now that the wounded are gone it really drives home… just how huge that house is. What in the world do they do with most of it?
Shortages only really mentioned after the war is interesting. First it's getting to them? How everyone lived?
The plot between Carlisle, Carson, and Mary… oh Mary. I thought she'd gotten better than that.
Between that, Sybil, Mary, Bates, Edith, Thomas… Well just about everyone.
An awful lot changing in one episode…
Episode 2.8
A wedding!
And a funeral.
Oh how things are changing.
Oy Jane. Oy Mary and Matthew. Oy Ethel. Oy Thomas.
Oy everyone.
Yay Bates though!
Christmas at Downton Abbey
I never know which is worse. The sorrow when you hit the bird or the shame when you miss it.
Bates is in prison, there's another new maid, Strallam is about again, Thomas is settling back in, Carlisle and Matthew come to a head, and Sybil has a surprise.
So many things. And all in all, it's Christmas time. 1920!
And so ends season 2.