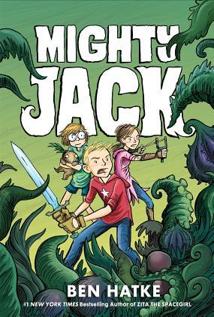 Well that's just a lot of fun.
Kid friendly graphic novel about a young boy named Jack with a single mother working multiple jobs to keep everything afloat and a non-verbal autistic kid sister (Maddy) that he helps take care of. That's already a bunch.
And we haven't even gotten to the point where they trade the family car for some magic beans (get it? Jack?), grow a crazy magical farm, befriend homeschooled neighborhood girl Lily, and adventures ensue.
It's a great time and I really do appreciate the increased variety of characters.
Well, well worth a read and the children enjoy it as well.