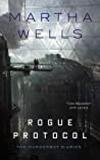 (There needs to be an error code that means "I received your request but decided to ignore you.")
I do love me some Murderbot.
First, we got the origin story and then the one where the mystery deepens). Now… Murderbot is really digging into where it came from … and what int eh world GrayCris is doing there. It's a fun story and I really love seeing Murderbot learn and grow as a person*. It's all about the relationships–Murderbot and all the people, Miki with it's childlike personality that may actually be loved, and of course Dr. Mensah.
Onwards we go! I kind of love this more novella length / serialized approach.