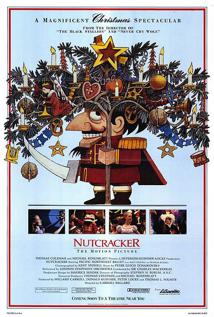 Well that's a truly bizarre adaptation of the Nutcracker. Or I suppose all of the other versions are bizarre, given that this is supposed to be as 'close as possible' to the original Maurice Sendak version.
It's got mostly the same cast, Herr Drosselmeier (majorly creepy), Clara (not Marie), Fritz, the Nutcracker, and a whole host of other dancers. The story is more or less the same–party, gifts given, gifts broken, weird mouse dream fight, and off into a fantasy land for a whole suite of sweet dance numbers (hah).
But then, there's the weird differences. Like a nutcracker with a huge head (which I suppose works, so far as cracking nuts), getting to the land of sweets not by chariot or boat–but rather by climbing into the dead Mouse King's giant discarded coat, Drosselmeier seemingly having the hots for Clara, The part of Mother Ginger… also being played by Drosselmeier. It's … surreal.
But hey, it's more or less the nutcracker and the dancing is cool. :D
Worth a watch, but not my favorite version of the story.