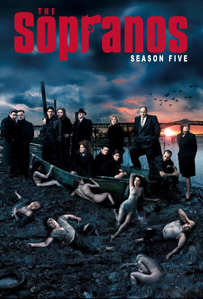 Well that's quite a season. It's great to see how Christopher has been growing over the series–man that penultimate episode though. The introduction and arc of Tony B (Buscemi is wonderful) is quite a thing. It just keeps picking up. Crazy to think there's only one more season, even if almost double length.
Mini-reviews per episode:
Two Tonys: The old guard's the new guard, Christopher and Paulie are (still) butting heads and perhaps they don't have to whack Carmine after all. Unexpected turn with Dr. Melfi too.
Rat Pack: Hustling air bags… yup. they're expensive. Wait, this one isn't called two Tonys? He's very Buscemi. He just makes everything slightly more… odd. Also wait what… Janice married Bobby? When? Why?!
Where's Johnny?: Old faces make for rather a mess in the leadership. Oh and Uncle Junior is having some issues. Oy an episode.
All Happy Families… Ooh boy the Sopranos are a mess. And Feech is a mess. AJ is a mess.
Irregular Around the Margins: Kind of surreal listening to them talk about war in the Middle East… 20 years later. And then… Ade and Tony. I just. Oy. I guess I didn't expect sobriety to Kay forever, but… Oy. Buscemi is wonderful.
Sentimental Education: A very strange episode. I… kept expecting things to go sidewise. I guess in the end…
In Camelot: Things worse than drugs, Tony's father's old flame (of course not everything was rosy) and Uncle Junior's a funeral junky. Quite an episode.
Marco Polo: Mostly a surprise party foot Carmela's father, but also a bit of redemption perhaps.
Unidentified Black Males: Finn's in over his head… And Carmela learns the hard way about breaking up with a mob boss. Oy.
Cold Cuts: Oh Janice. Could have done without … any of her plotlines really. I guess she did try. And Tony's reaction is worth it. But… why don't they just dump the bodies i. thw water to begin with.
The Test Dream: Well… that went quickly weird.
Long Term Parking: And that was intense. That's what a penultimate episode should be. Oy.
All Due Respect: Well. That's an ending. It's all about family, but sometimes family has conflicts. No idea where they are going with AJ.