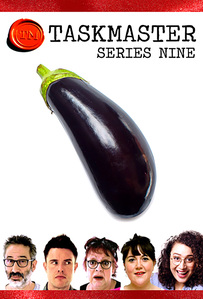 A great season! I loved all of the people on here. I was writing up my favorite and … I just couldn't do it. They're all a lot of fun.
First entry in the first task: How large are Greg Davies' shits… We're off to quite a season. Hiding eggplants is a wonderful task. "It's amazing how much it compacts down into a baby's head." "You scored the same as Rose… and she couldn't see."
It's always fascinating when something that seems so obvious in hindsight takes absolutely forever to figure out. Scavenger hunts on steroids. Jo has tremendous DGAF energy and Rose makes hilarious faces.
Jo suggesting Mein Kampf is an important read for democracy… The look on Greg Davies face! I also love when they combine tasks, such as building a solid statue… and then scoring a soccer goal against it… with a steamroller. Wonderful. "Now I've destroyed the statue. I haven't even scored. For the second time. In 40 years."
The water feature task is one of my favorites. Oh… Alex. You really make this show. I'm never going to get those out of my head. Katy's 'subtle' flirting (bra begins with B) is a lot of fun. The final task (throw your thing far but not too far) was fun.
Aw, poor Katy Wix. Kerry Godliman is wonderful though. "And this is Monkey now… … KEEP IT LIGHT!" Also: "What's his name? (Alex, not missing a beat): David Baddiel." And that's just the prize task.
Katherine Ryan! Missed her. Live task, sliding full glasses bar style at Greg Davies was wonderful.
Katy Wix is back! And she stole Kerry Godliman's Taskmaster prize :D. And then, 'Make Mount Rushmore'… and they all talk about Trump. We are/were a joke… And it ends with a rousing game of horse or laminator (that old gem) with POSSIBLY INFINITE POINTS!
Making sound effects was lovely, especially with a live screamoff in the studio!
So many balloons!
"To hold aloft my smelted golden likeness and scream into the void. I AM BECOME LIGHT. I AM BECOME IMMORTAL. THE WORLD SHALL NOT FORGET MY NAME." Oh Greg Davies. It's interesting seeing them all dressed up in matching suits and bowties. Did any of the other seasons do that? Why are they so orange? So many questions. Last task?! :( Last seven tasks? EXCELLENT. Quite the final task… The tie breaker was delightful.