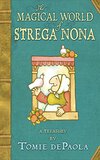 Oh, these stories are absolutely delightful.
In a town in Calabria, a long time ago, there lived an old lady everyone called Strega Nona, which meant "Grandma Witch".
Take one dash Italy, a few pinches of rural life, and a whole heaping helping of the kind old grandmother witch stereotype. Mix it all up and serve out a half dozen wonderful stories. They have the feel of traditional fairy tales / fables, up to and including the everfull cooking pot (but this time with pasta!) with a fun voice, colorful characters, and a few lessons learned along the way.
I absolutely love reading these books to my children and they love listening to them.
For that is the ingrediente segreto, love … It is the same with all your magic. Always love!
Well worth the read. Now I just need to find the ones not in this collection!