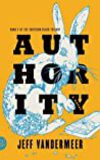 After how much I enjoyed Annihilation, I had high hopes for Authority. A chance to get out of Area X and explore the organization sending people in / to their deaths over and over again…
But unfortunately, I just couldn't get into it. I missed the limited focus and the mystery of the first book. Even, for what very little we knew about them, the characters.
So it goes.
I don't think I'll finish the series. Annihilation was well worth the read. Leave it at that.