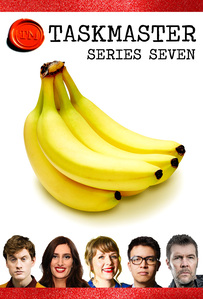 Rounding out the first 8 series that are available directly on YouTube in the US, finally Series 7!
Man this was a season. Man those are some characters. James Acaster has a barely contained rage beneath his humor (sometimes now so barely). Jessica Knappett, hilarious with some crazy outfits. Kerry Godliman: a wonderfully direct way to solving tasks. Phil Wang (and Phil Wang's wang). That outfit… it's certainly a thing. And Rhod Gilbert. Perhaps the best at lateral thinking with decades of a relationship of history with Greg Davies, and an obsession with a picture of Davies in a speedo. Oh they're all great.
Favorite tasks:
Episode 1, Task 4: Work out the circumference of a caravan in baked beans. Rhod was robbed. And that's such a very silly wonderfully task.
Episode 2, Task 5: Draw the biggest circle. Does a globe count? I enjoy Rhod's thinking.
Episode 3, Task 3: Excite Alex. Messing with Alex is great.
Episode 3, Task 4: Get the ball into the hole in as few strokes as possible. Can you move a hole?
Episode 5, Task 3: Make the most white circles on a target (Phil: in 20 minutes, everyone else: 5 minutes, added together). Poor Phil. So close.
Episode 6, Task 4: Place 10 pairs of glasses in a box selected without looking (implied to be spectacles, actually drinking classes). Sneaky!
Episode 6, Task 5 (live): Get your doughnut as high as possible… by giving it to the audience!
Episode 3, Task 7: Don't blink. I'm surprised no one kept their eyes closed, but it's so much better this way.
Episode 9, Task 4: Hula, improve live on stage (only Phil and James). I think Phil's outfit may have been cheating…
Episode 10, 2a/2b: In a future task, put on a boiler suit and lie on the ground. Later: tie yourself as securely as possible (siren sounds). It's a great time for it to go off and I absolutely love Rhod's solution to 2b.
Overall, my favorite series so far.
Now I have to track down the series that aren't in the US on YouTube… :D