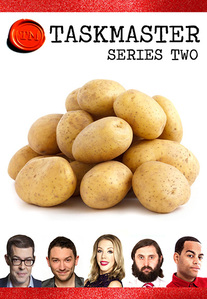 Back one more!
Richard Osman is just wonderful in this season. He can really give Greg Davies a run for his money. But I think even better is Katherine Ryan. She's snarky and hilarious. I wish they had more than one woman on the earlier seasons, but if you only have one, she was a good one!
Favorite tasks:
Episode 1, Task 2: Place three exercise balls on a yoga mat on top of a hill. Watching the chaos as they blow away and amusing cheating are the best.
Episode 1, Task 4: Get information from a Swede without communicating in English. Call a friend!
Episode 2, Task 2: Eat an egg the fastest. And only one ate it raw.
Episode 4, Task 4: Build a bridge for a potato with the supplied items. I love when they hide something that would make the task easier. Much better when they don't find it.
Another short season, but a good one.