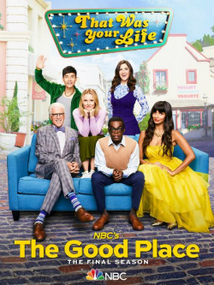 The Good Place is an absolute gem of a show. It's hilarious, it's touching, and it even manages to make you think.
I watched the first three seasons a year or more ago, before the 4th season was out (let alone on Netflix), so it's a bit out of order, but from the beginning or jumping in on season 4, it's a show well worth watching.
In a nutshell, the main characters die and end up in the afterlife: The Good Place. Except–things aren't quite like they seem. One thing leads to another, our unlikely heroes have to save the afterlife; again and again.
The casting is top notch, I've loved Kristen Bell in a number of things, William Jackson Harper does hot philosophy geek well, Jameela Jamil is snooty in all the right ways, D'Arcy Carden has a wonderful range as a whole pile of Janets, Manny Jacinto is Florida Man in a nutshell, and Ted Danson as Michael is… good, evil, in charge, out of control. Everything. Even the more minor characters: Marc Evan Jackson as baddie Shawn can fit a volume of evil in a single eyebrow, Tiya Sircar as Vicky is a wonderful tiny firecracker of a demon, and Maya Rudolph is hilarious as the all powerful Judge.
Specific to this season (spoilers for seasons 1-3!), we start out with the big names trying to save humanity this time by running the place. It goes about as badly as expected for most of the season, up to the longest final 10 minutes I've seen in a while. In the final half, we have the new normal, an introduction of a few new/old friends, and a touching send off.
It's an eminently bingeable show… and I totally wouldn't mind rewatching the whole thing again, even knowing all of the twists ahead of time. It's just that good. Makes me want to check out Michael Schur's other works.