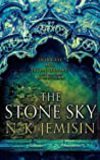 Wow.
"I think," Hoa says slowly, "that if you love someone, you don't get to > choose how they love you back."
That is quite the conclusion. Everything that made and wonderful–the terrible, raw, apocalyptic nature of the world; the broken people who still hope, who still do what must be done; the complicated depths of magic and life and Earth. It's all here and and it's somehow… more.
How can we prepare for the future if we won't acknowledge the past?
As with the previous two books, we get a new point of view that broadens and deepens our understanding of the world, answering questions I didn't even think to ask and letting us all know that perhaps good and evil, the right and wrong choices are perhaps just a bit more complicated than that. Yet all along, people are going to do what needs to be done to survive. To thrive.
You know the end to this. Don't you? How could you be here listening to this > tale if you didn't? But sometimes it is the how of a thing, not just the > endgame, that matters most.
Let me just say, without reservation, that this is among the best (if not the very best) finale for a series I've ever read.
Well, well well worth the read.