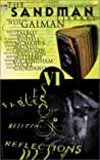 Death was a little older than Dream. Things had the potential to die before they had the potential to dream.
The Endless are so fascinating. As it this story.
It's rather a grabbag, somewhat less directly related than preious compilations, but really, that works as well. Especially in such a broad universe as is Sandman.
Of particular interest, we have an Emperor spending a day as a common man, Marco Polo in a desert of dreams, another Emperor–this time of the United States1, and another take on the myth of Orpheus2.
A fun read.
Many many spoilery pictures;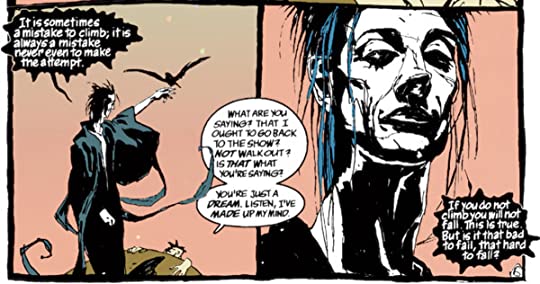 The changes of the art style are odd sometimes. And the idea of falling in dream.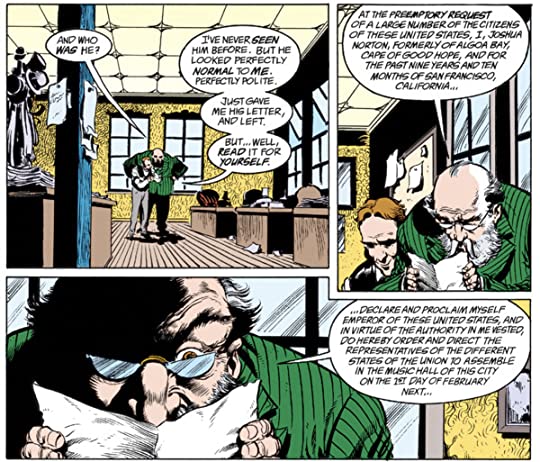 Joshua Norton, EMPEROR OF THE UNITED STATES.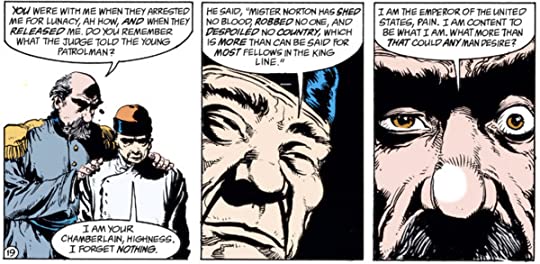 You know. It works. It's sort of like a few in the Bible and otherwise, with various temptations. But he's Emperor–and a pretty good one, all things considered.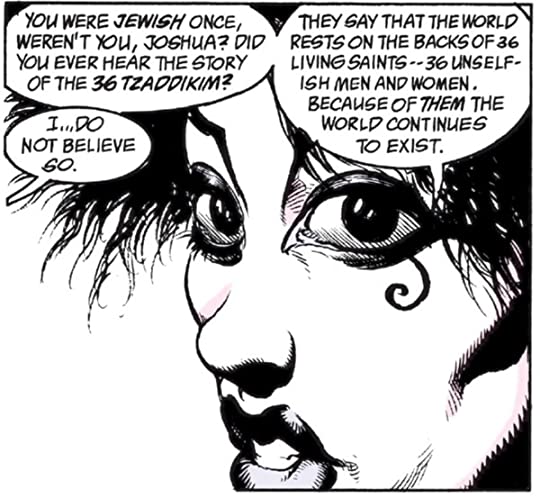 You know, I fully expected to see said 36 after this. That's quite the closeup of Death.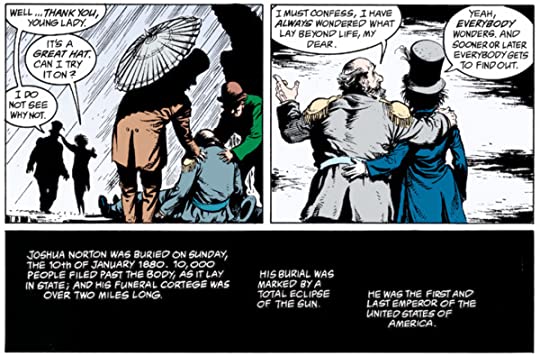 Ah Death. She's got a light touch and seems pretty good at the whole job. I guess she's been doing it for a very long time…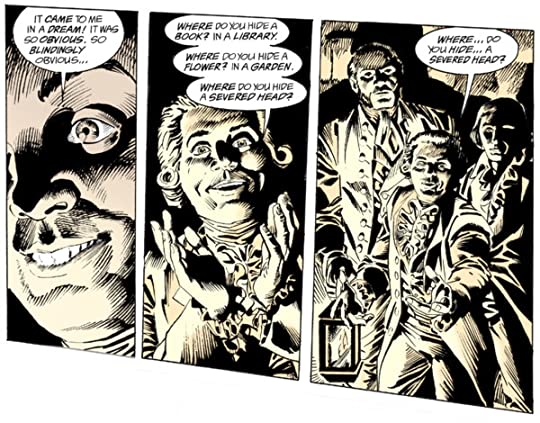 A head. That is all.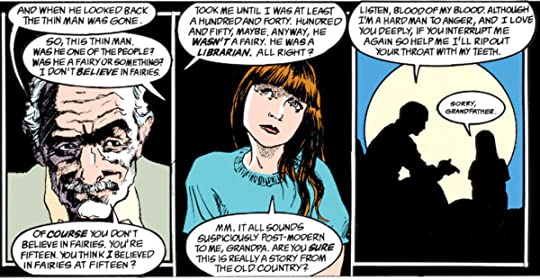 Listen, blood of my blood. Although I'm a hard man to anger, and I love you deeply, if you interrupt me again so help me I'll rip out your throat with my teeth.
You know… I feel that sometimes.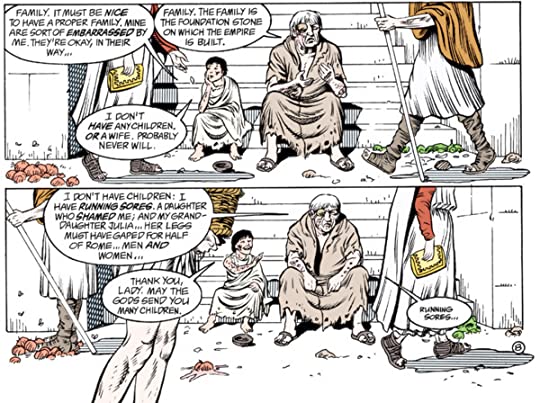 The Emperor spending time as a begger and learning about family. It's quite a story.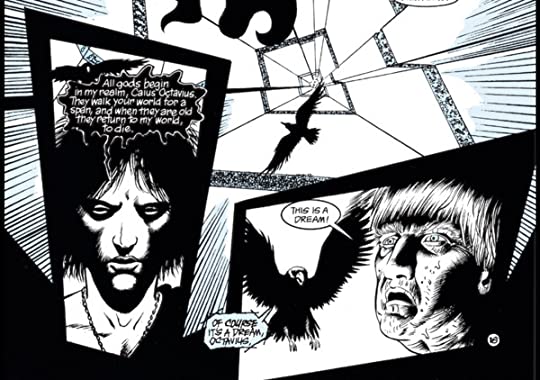 All because of a dream.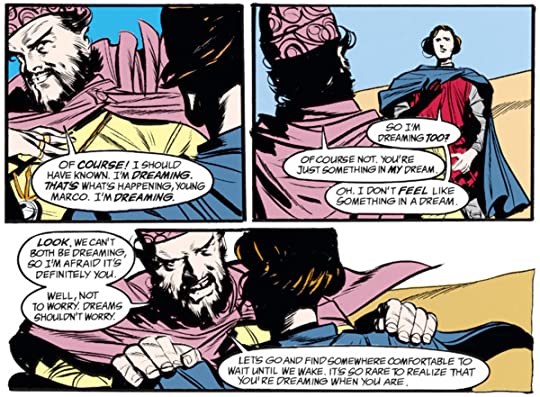 Trying to figure out exactly who's real and who's a dream–and if a dream, just how self aware are they anyways–is a fun job in these stories. Especially when they get all timeywimey and circular.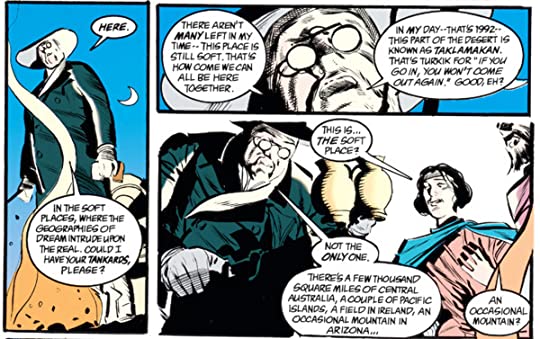 Heh. Fiddler's Green is weird but a lot of fun. And a few 'soft places'. A neat idea, worth exploring just for that.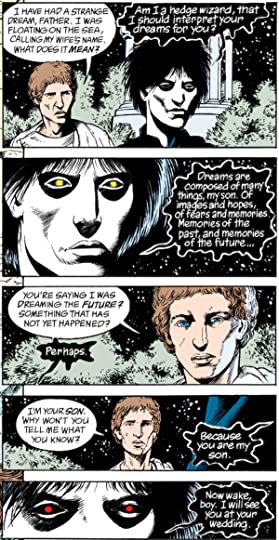 Son of Morpheus, son of Dream. I don't think that's how it worked in the myths I'm familiar with, but it fits.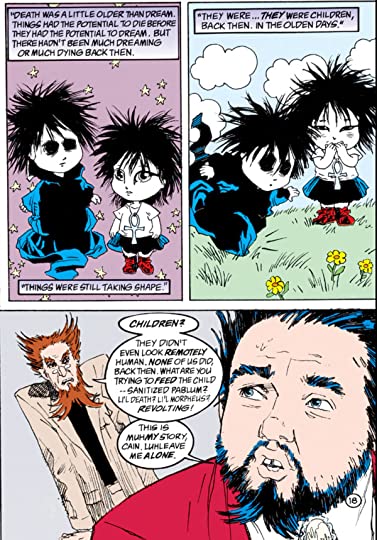 Hilarious. Just… hilarious.