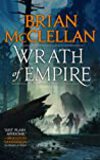 Superstitious people claimed that the Hock had been carved by a war between gods millennia ago. During his time in the labor camps, Styke had once been partnered with a geologist–one of those government-employed fellows sent to look for likely deposits of gold ore–who had insisted that this sarp terrain had been caused by immense mountains of ice creeping their way across the land tends of thousands of years ago.

Styke had always dismissed him as a lunatic.
That is one heck of a long/dense book, but I quite enjoyed it. It takes all we've seen in (Godstones, a Dynize invasion, politics/spying, Landfall falling) and turns it up.
It's chock full of battles, both with and without magic. Michel gets to both use his skills in espionage and get the revenge that his hidden self so desires. And Ben Styke learns what we all already knew–that he's more than just a killer. Although he's also really really good at that. General Flint– has probably the weakest overall story, although the battles she ends up involved with are the craziest.
By then end, we've found a second Godstone and possibly dealt with it, but I'm still not sure exactly how that's all going to turn out. The big 'twist' around Mara makes me really wonder just how badly things are about to explode. Onwards to find out in Blood of Empire!