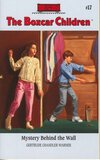 It's a cute little book. Benny's friends all wondered off for the summer so Mrs. McGregor invites Canadian son of a friend Rory over for the summer.
One thing leads to another and a telegraph between the boys' rooms leads to the mystery of a missing coin collection. Along the way, they learn more about the mystery of the house, find a fun old local store, and of course eventually solve the mystery.
It all goes to show that you can even find a mystery stuck at home1—great news in the age of coronavirus.
---
Although having a giant old house like Grandfather dies likely doesn't hurt. :) ↩︎