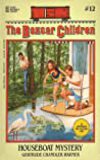 A mystery on a houseboat? Sure! That actually sounds like a really fun vacation.
Grandfather's still just throwing his money around (what does he even do for work anyways?) and the kids are impressively meddlesome. But you know what? It works.
The idea that the entire mystery revolves around someone who happens to have a key to the houseboat and they happen to hide something on it, rather than just running, and no one talks to anyone else… It's a really thin plot. But it works, barely.