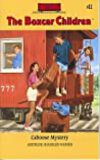 That was cute.
Taking a train ride across the country is on my list of things to try one day and in a caboose would be even more interesting.
One of the best in a while.
A few random thoughts:
Grandfather began, "You see I have a friend who owns a railroad."
Come on. It doesn't all have to be about how crazy much money and power you have…
"Don't be late, either," Grandfather called again. "The train won't wait for you, you know."
Of course he's going to miss the train now. It's insane to me that they didn't just check no matter how much he said he'd nap.
Mr. Alden looked at the sign. "Oh, I know all about that store," he said. "It is famous. We can trust them to tell us the truth."
That just feels weird.