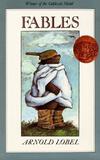 All the miles of a hard road are worth a moment of true happiness.
I enjoy fables. It's a nice way to illustrate various lessons and morals and pass them along to children somewhat subtly. Especially when you take the wordcraft and illustrations of Arnold Lobel (Frog and Toad).
The children enjoyed the stories. Some of them, they understood and laughed at. Some went right over their heads. Some honestly didn't make that much sense even to me. I don't even agree with all of the morals, but that gives you a chance to talk about it afterwords, which is worthwhile. Plus, they're fun little stories and each individual one is a quick, self-contained read.
A child's conduct will reflect the ways of his parents.
I hope to be worthy.