Another year, another reading list.
This time around, I'm aiming for 120 books. 10 per month. One every 3 days. It's more than I've ever done. Probably won't make it. But it's worth trying, no?
New books to read:
Series to (re-)listen to: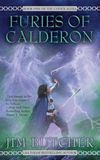 Series to re-read because there's a new entry:
Haven't even counted this time around. If I run out of books, I can always add more. If I overestimated, I can always push them to next year.
Here will be my list of reviews (it will update as each one is added):
Previous years, if you're interested: