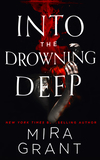 Well. That is certainly a book.
It basically reads like Mira Grant thought: you know what's kind of creepy but doesn't really have that many books written about them? Mermaids. And just went with it. It works though. Creepy as heck at times and once things start happening around halfway through the book, they really don't stop. The ending is a bit weak and leaves me wanting more answers, but not enough to ruin the entire book.
One of the most interesting parts of the book is just how diverse the case is, almost to the point of feeling like being diverse for diversity's sake. You have a bi scientist on a mission of revenge, an autistic lesbian reporter type, a pair of deaf twin science types and their interpreter sister, a man with severe nerve damage and some lacking morals, and a big game hunting, murderous power couple who will stop at nothing to kill some mermaids. They're all fairly well developed characters in their own right and the writing hits home in a lot of ways, without making the entire story about any one character's differences. It's pretty well done.
Plotwise, the world building of environmental disaster gone wrong combined with something creepy in the parts of the world we haven't yet explored is rather well done. As I mentioned, the ending is weak, on one hand just ending when they finally get the ship's defenses to work and on the other hand, leaving a huge (heh) opening for future work. It looks like there is a planned sequel, so perhaps we'll get some answers to that.
Overall, if you like horror based on the deepest parts of the ocean… worth the read.