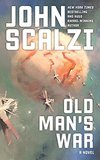 I did two things on my seventy-fifth birthday. I visited my wife's grave. Then I joined the army.
Fascinating.
I think I put off reading Old Man's War for so long since I confused it in my head with Forever War. Having read the latter, I never considered reading the former. Other than some general themes of humanity fighting various aliens a non-standard military force, they're fairly different.
I really do like the central premise of story, that for the most part, humanity's armies in the universe are made from people who have already lived a full life back on Earth and decided to join the military in exchange for a chance at a few more years of healthy life. There's certainly a lot more to it than that (some I guessed and some I didn't), but it's a pretty cool premise and done well.
That being said, once we get past the first premise and initial training into the actual war–it's still a fairly solid scifi military action book, but it's not quite as ground breaking. If that's all there was to the book, I'd probably have rated it a bit lower.
That said, a rather solid book and well worth the read. And it turns out Scalzi has written a whole pile of other books, both in this series/universe and in others. I'm going to have to give a few more of those a try.