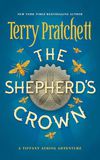 FOR I CAN SEE THE BALANCE AND YOU HAVE LEFT THE WORLD MUCH BETTER THAN YOU FOUND IT, AND IF YOU ASK ME, said Death, NOBODY COULD DO ANY BETTER THAN THAT…
And so it ends.
is the last published Discworld novel and the last one I have to read. It wasn't quite finished when Pratchett died, although due to the style in which Pratchett wrote, the overall feel is there, along with some parts that are rather solid… and some that are less so.
It starts out hitting hard–with the death of one of the core Discworld characters we've come to know and love–and builds from there. It turns out to be a solid last book, with guest appearances by name of the Witches, along with a handful from the other lines.
One of the odd subplots is Geoffrey, a young boy who wants to become a witch. I wasn't particularly interested in the plot line. Subverting gender roles is something Pratchett has already done a handful of times (in Equal Rites and Monstrous Regiment in particular), but it's a fine enough subplot.
Overall, even weak as some parts are, I'd rather have it than not. It's a fitting end to a wonderful series.
(and now I have to find something else to listen to…)