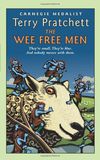 Open your eyes and then open your eyes again.
The Wee Free Men is a wonderful book. It's the Witches again, done YA this time around. It follows the story of Tiffany Aching–young witch to be–as she begins to discovers her powers and finds that the world may be just a bit more complicated than she (or the adults around her) thinks it is.
Tiffany is a great character. She's smart and strong and willing to do what has to be done. She's young enough that she can still believe (which is handy even in a world where magic) yet still has a tendency to look up things she doesn't understand and approach problems logically. She'd make an excellent role model for young girls. I'll have to remember that in a few years.
The Wee Free Men are pretty hilarious as well. I'm glad I listened to them in audiobook form. They're still a bit of fun trying to figure out what in the world they're saying. They're refreshingly straight forward and just need a bit of a guiding hand to be forces for good in the world.
Overall, it's a great book and a great subseries which which to finish my Discworld journey. If you're just now starting out, especially if you're a younger reader, it works just as well as an introduction to the world as well.