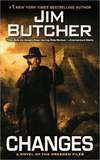 ** spoiler alert ** Damn.
In the first chapter of Changes, Dresden learns he has a daughter. Throughout the book, he loses everything (his car, his office, his home…). He makes deals he promised he would never make.
He takes on archangel-tier baddies–and wins. He takes on the Red Court and kills them all.
And in the last chapter, he's shot. Presumably fatally. (Although given that this is book 12 out of a planned more than 20...
I remember the first time I read this book. Ghost Story wasn't out yet. That was a long wait. Time time around, I can start immediately (and know what actually happened). That's doesn't make this stories impact and less.
Another thing that has changed since I last read Ghost Story? I have a daughter now. Younger than Maggie, but still. If I were in the same situation; if I had to make the choices Dresden made?
The best Dresden Files thus far, by a decent margin. Where can it even go from here?