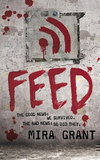 Brains.
In the future, zombies are here and bloggers have taken over the world.
Feed follows the story of George (yup), Shaun (also yup), and Buffy (not even kidding), three bloggers covering the story of a lifetime: a Republican Presidential candidate. Then, as it always goes in a zombie story, things go wrong.
I liked the characters. The bloggers are divided into a newsie (tells it like it is), an Irwin (basically the action stars of the blogging world) (yup), and a fictional (writes poetry); missing only a Stewart (satire in the news) (also yup). I really felt for all of them, even if at time they tended a bit towards caricatures of their roles. Also: evil bad guy is evil and obvious, but sometimes that's not a bad thing.
This is also one of the best treatments of a 'realistic' zombie outbreak that I think I've read. Society has mostly adapted to everyone being a carrier with a system of restrictions (no one can go to Yosemite) and near constant blood tests. The CDC is far more powerful and people have adapted to the idea that any mammal over 40 pounds could be your death.
Therein lies the first oddity with this book: Feed doesn't actually feel like a zombie novel. More than anything it feels like a novel about journalism, politics, and freedom of speech… which just so happens to happen during after the zombie apocalypse. It took me a while to realize this, but I think it makes the novel stronger as a result.
And then there's the twists, oh the twists. I get it, it's a zombie story. People are going to die. Just… I didn't see that coming… Wow. That's certainly one way to get me to read the sequel.