Just under the wire this year.
It took a bit to get going, given that I basically restarted on Day 7: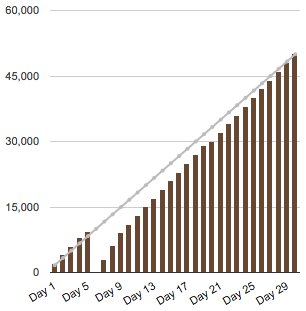 Basically, I wrote 3000 words each of the first three days and then settled in for 2000 words a day after that. I had one day where I just couldn't make it past 1000. So it goes.
As far as overall progress goes, I'm most of the way through chapter 10 of a planned 19 (there's something to be said for outlining ahead of time after all…), so I should be done around Christmas.
Onwards and upwards!