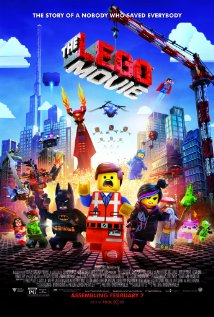 ♫ Everything is awesome! ♫
Sorry. It's probably stuck in your head again now. It's certainly stuck in mine.
Right. Where were we?
The Lego Movie. A movie, about Lego. Yet another case that I didn't believe could possible be a fraction as good as it turned out. It sounds either completely insane or completely awesome when you think about it… and it ended up a little bit of both.
I really like the world that they built. It's just mad enough to have come from a kid's mind and it manages to tie together a wide variety of worlds and styles (I'm Batman) seamlessly. I especially like the idea of the 'master builders'… and how they eventually learn that everyone has a builder within them, sometimes it's just buried a little deeper.
Another thing that was awesome were the characters. Emmet is the perfect everyman, Wyldstyle/Lucy is a refreshingly solid strong female character (at least through most of the film), and Morgan Freeman is Morgan Freeman. I can just imagine how much fun he had with that role. I was also pleasantly surprised with Will Ferrell as Lord Business et al. I don't always care for the roles he plays, but I think he really fit here.
As a side note, I thought it was great, some of the guest stars they got. Anthony Daniels voicing C-3PO? Billy Dee Williams as Lando Calrissian? Great fun.
Really, there's nothing really negative I had to say about this movie. I had a blast watching it and I'm sure I'll see it again. I wouldn't be surprised if this one ended up right near the top even after there's only a single movie to judge.
Ranked: 2014 Movie Reviews
(Side note: I'm still working full time, so I won't have nearly as much flexibility as I used to about when I can catch new movies. I'll write up the ones that I see, but I wouldn't be surprised if it's a fraction of the previous two years.)