We cooked something new this weekend (or at least something I don't think I've blogged about it before), so I figured I should dust off this category and post something for once. What did we make? Popcorn chicken!
The recipe is actually crazy simple and it doesn't take that terribly long to make. I'm not sure why we don't make it more. Being fried, it's not the healthiest of meals, but I'd be willing to bet that it's better than chicken nuggets from McDonald's at least.
Ingredients
Chicken
Breading
Eggs (to get everything to stick together)
Oil (we used canola oil because it's what we had enough of)
Recipe
Prepare two bowls, one with eggs and one with breading
Cut up the chicken
Dunk the chicken in the egg bowl
Move the chicken to the breading bowl, cover well (this is so messy but also a lot of fun)
Heat oil
Fry everything 😄
Enjoy 😄
Unfortunately, I didn't think to actually take any pictures of the prep work (it has been a while), but I do have two of the frying. The particularly strange thing was how absolutely weird the oil looked while it was frying.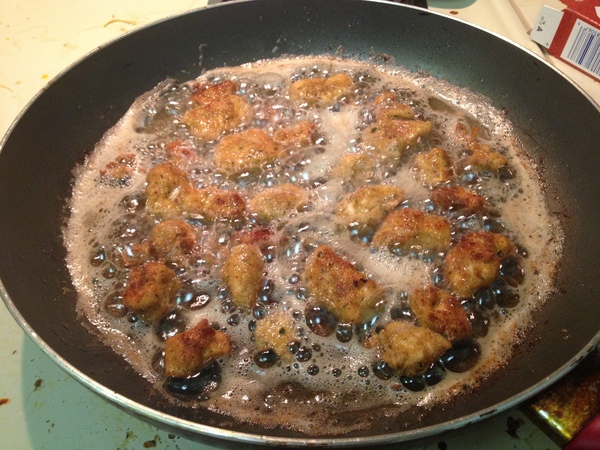 I'm pretty sure it was a reaction between the oil and the breading, but it looked all the world like some sort of bubbling toxic sludge. For a bit, I'll admit I was actually afraid of eating them… But then I tried one.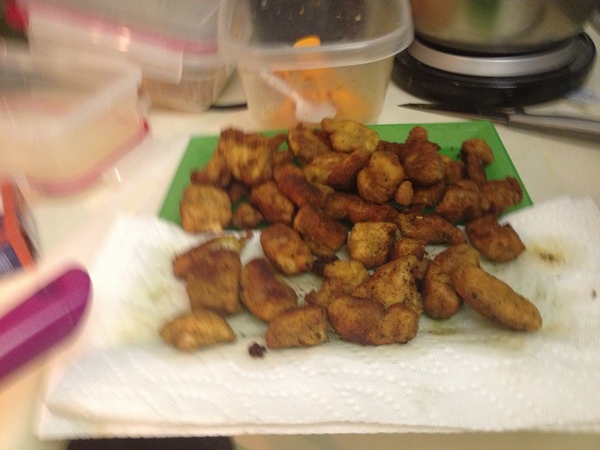 Dang these things are tasty. I had mine with a spicy brown mustard. We also made some homemade potato chips (so much easier to make now that we have a potato slicer), made in the same oil. That turned out… Oddly. Still tasty but they weren't nearly as crispy as they were previously.
Anyways, if you're looking for a quick yet absolutely tasty project, I have to suggest trying to make homemade popcorn chicken. It's well worth it. Next week, I'm hoping to try doing the same to some homemade cheese for homemade² cheese sticks! We'll see how that goes.