Just a small change, now a short (8 character) alpha-numeric string will be used whenever a user hosts a connection, rather than just having to enter the IP and port combination: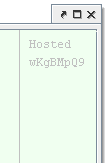 Theoretically, this will help with adaption as this is what the students are already used to when they use other screen sharing systems such as typewith.me or any of the other systems based on EtherPad. Also, if the back-end changes from a direct connection to a multicast based system (or the like), the I don't have to change the front end–hopefully to minimize confusion.
If you want to switch over to the new versions of Wombat, you can get it here. You should have at least version 2.47.24.